Images Source: Wikimedia Commons
""I did it. I said I'd do it and I've done it."
~Emma Gatewood
People still talk about the amazing Emma Gatewood nearly 50 years after her death, but "the Embodiment of Hope, Determination, and Courage" befits her best.
WHO WAS EMMA "GRANDMA" GATEWOOD?
Sometimes the greatest among us start with the humblest of beginnings. Emma Gatewood started out with all the cards stacked against her, but she completed great feats – and stayed humble – throughout her life.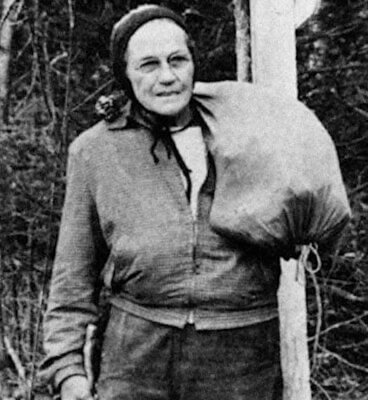 Emma Gatewood, often referred to simply as "Grandma Gatewood", gained fame when she hiked the entire 2,168-mile Appalachian Trail at the age of 67 by herself.
This amazing woman made the trek bringing only a pair of Keds sneakers, a plastic shower curtain, an army blanket, and a single change of clothes in a homemade pack. She got the idea to make the hike after reading about the trail in the National Geographic magazine. Not only did she do it once at age 67, but she also did it again at age 72 and a third time at age 75.
Emma was born into a poor family with 15 children in 1887 in rural Gallia County, Ohio. She only got to go to school up until 8th grade, but she read encyclopedias and taught herself about plants and animals.
She married at 19, and soon found out she had married a physically abusive man. She had 11 children. When her husband was violent, as was often the case, she'd retreat to the woods. The woods became her refuge. In 1941, after 33 years of a bad marriage, she finally was granted a divorce.
She first hiked the Appalachian Trail in 1955 at age 67 after telling her grandkids she was "going for a walk". She was the first woman to ever hike the entire trail solo. She hiked it again 2 years later in 1957 at age 69. After that, she hiked the 2,000-mile Oregon Trail 2 years later in 1959 at age 71. Then, at age 73, she hiked the Appalachian Trail again. This gained her notoriety for being the only person to hike the entire trail 3 times. She continued to hike up until her death at age 85 in 1973.
During her hikes, she hiked about 14 miles a day. After she finished, her story appeared in a lot of newspapers and magazines. She used this opportunity to talk about how the trail had fallen into disrepair, which prompted people to take notice and promote the upkeep of the trail.
It certainly wasn't an easy task – not the first time, the second time, or the third time. She was once quoted as saying, "I never would have started this trip if I had known how tough it was, but I couldn't and I wouldn't quit".
We aren't just defined by what we do, though. We find out more about people by listening to what they say, don't we?
Here are some of Emma Gatewood's thoughts and ideas, expressed in her own words:
"I would never have started this trip if I had known how tough it was, but I couldn't and wouldn't quit."
"The sum of the whole is this: Walk and be happy; walk and be healthy."
"There were a million heavenly things to see and a million spectacular ways to die."
"I get faster as I get older."
"The forest is a quiet place and nature is beautiful. I don't want to sit and rock. I want to do something."
"I did not worry if it was to be the end of me", she wrote in her diary. "It was as good a place as any."
(Visited 1,209 times, 1 visits today)
Lessons Learned from Emma Gatewood
Obviously, Emma had an incredible sense of determination and grit.
But as a person, she serves as an inspiration to me. I think she is a great inspiration to girls and women worldwide, as well.
Why?
Your circumstances don't matter. Emma was poor from the beginning. She and her siblings had an alcoholic father, and they slept 4 to a bed in a log cabin. Later, her husband beat her and threatened to lock her up in an insane asylum to control her. With 11 children and no one to help you take care of them, you often feel trapped, like you're not able to do anything except tend to kids and work around the house. Even so, she set out to do the seemingly impossible, after her responsibilities were taken care of. Many people get worn down by life and give up. Even after 33 years, in a time when it wasn't easy to get a divorce, she fought for herself and won her divorce. Her husband broke her ribs and her teeth, but he couldn't break her spirit.
She believes in herself Henry Ford said, "Whether you think you can, or you think you can't — you're right". If you believe you can do something, you'll find a way to do it. Emma is a perfect example of using the springboard of believing in yourself to reach new heights.
We are all worthy and capable of something. For 33 years, she suffered through a miserable marriage full of pain and fear. But she didn't succumb to despair or to the belief that she was worthless and couldn't do anything. She kept a belief in herself, and she always strove to become better and overcome obstacles. It's scary to go on a solo, 2,168-mile trek by yourself while being advanced in age. Especially when no one else had done it before. But she pushed herself and did it anyway.
You don't have to wait until the conditions are right. If I thought about embarking on a solo 2000+ hike, I would think "Well, I need great hiking shoes, one of those expensive, waterproof backpacks, lots of materials and supplies to carry with me, clothes for different weather conditions, etc. Emma didn't have money. All she had was desire. So, she took less than a handful of cheap items and set out on her journey. She didn't wait until she had more money or the "right equipment" or a "safety plan". She had desire. That was enough.
Always keep learning. Emma only had an 8th-grade education, but she didn't stop learning. She taught herself about plants and animals. It was from reading a magazine that she even discovered the existence of the Appalachian Trail. You never know when the next piece of information you come across could be the one that changes your life or your perspective. Always learn. Always grow. Even when others consider you "too old" or "worthless".
Age is not an excuse. Emma didn't set out on her trek until she was 67. Maybe she had aches and pains. She wasn't an athlete. She once talked about how, if she told people what she was about to do, they would discourage her and tell her it was impossible, so she decided just not to say anything about it to anyone. She just did it. Never let people tell you "You're too old". And certainly don't tell those lies to yourself.
Don't let fear stop you Emma saw plenty of danger along her trek, but she didn't let it stop her. She knew there was a possibility she might die, but she wrote "I did not worry if it was to be the end of me." "It was as good a place (to die) as any."
Emma reminds me to take an honest look at my life.  What could I accomplish if only I set my mind to do it?
Emma Gatewood was an amazing woman, without a doubt.
But, don't let this be one of those articles that you read, and then CLICK! – you skip off to something else and then – WHAM! – you already forgot about her story!
No.
Don't do that!
Instead, take 1 minute – RIGHT NOW – and jot down the answers to these 5 questions. Tuck it under your pillow, or save it on your phone and re-read your answers when you wake up tomorrow morning.
What is ONE thing I'm good at (or that I'd like to be good at)?
_________________________________________________________________
What one thing can I add to my daily schedule to improve or utilize that thing that I'm good at (or want to be)? How much time can I reasonably set aside for this?
___________________________________________________________________
Am I willing to reach out and meet new people who are positive, uplifting, and can help inspire me to become better? If so, where can I start looking for these people?
______________________________________________________________________
What's ONE way I can inspire someone else, teach someone something, or be a mentor to someone who's struggling?
_________________________________________________________________________
Do I believe that I am as capable, deserving, and able as anyone else? If not, create a mantra that you can repeat to yourself over and over to remind yourself that you are. Write it down, carry it with you, and make yourself repeat it many times each day.Examples: "I got this!"; "I'm just as good and capable as he/she is!"; "I can do anything I set my mind to"; "I can and WILL do it!". Write something that reverberates with you, though:
___________________________________________________________________
Emma Gatewood was an asset to our world and a true inspiration – and so are you!
Does Emma Gatewood inspire you?  If not, who DOES inspire you to accomplish something bigger than you've done thus far?
Get these 5 Questions in Google Docs
Click the button to get a copy of these 5 questions in Google Docs. You can print it, save as pdf or as a Word doc, or share with others.
Just be sure to click "File > Make a Copy" as soon as you open it (to make it yours).
GET THE 5 QUESTIONS IN a GOOGLE DOC
Tell us about the Badass Woman You Admire:
Click here to nominate a woman you know to the Badass Women We Love Gallery.
(Visited 1,209 times, 1 visits today)