Images Source: Wikimedia Commons
"If they can do it, I can do it"
~Sabrina Pasterski
People across the globe laud 25-year-old Sabrina Gonzalez Pasterski with plenty of praise-worthy monikers, but "the Embodiment of a Powerful, Smart Female" befits her best.
Who Is Sabrina Gonzalez Pasterski?
It's impossible to define a person with a couple hundred words, isn't it?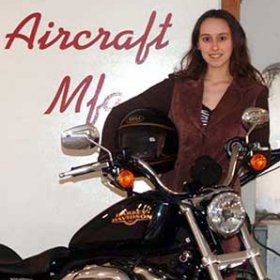 When we try to describe someone, though, don't we usually start with describing the things they do or where they work?
Even though she's only 25 (soon to be 26), Sabrina Pasterski has a dizzying list of accomplishments. Here are just a few highlights:
At 14, she was the youngest person to build an airplane, certify it as airworthy, and then conduct their first U.S. solo flight in that same aircraft.
Graduated in 3 years from MIT (Physics), and was the first girl to win the MIT Physics Orloff Scholarship award.
Denied early admission to MIT in December of 2009 at the age of 16, she was wait-listed by MIT in March,2010. Harvard rejected her application in April of 2010. However, she received a mentor who helped her get admitted to MIT in April 2010 (still age 16).
Graduated from MIT in 3 years and tied for the top overall GPA at MIT Institute-wide with a 5.00 GPA.
Graduated with a PhD from Harvard University (Theoretical Physics).
Forbes added her to their "30 Under 30" List in 2015 (at age 22) and named her a "30 Under 30 All-Star" in 2017.
You can check out a lot more of her accomplishments at her website.
(Visited 1,648 times, 1 visits today)
We aren't just defined by what we do, though. We find out more about people by listening to what they say, don't we?
Here are some of Sabrina Pasterski's thoughts and ideas, expressed in her interviews, essays, and on her website:
When Harvard University called her "the next Einstein", she expressed her rejection of that title, stating,

"I am just a grad student. I have so much to learn. I do not deserve the attention."

Her thoughts on why challenging herself and keeping a positive attitude are keys to everything she has achieved:

"When I want to motivate myself to do more, like, if there's a particular task that I want to do but haven't been able to do it, and I see that someone else has done it, I think 'If they can do it, I can do it'. (from YouTube Interview [24:05] at Misk Global Forum, 2017)

On how women (and all people) will benefit from technology in the future:

"The access to content – what you can learn, what you can study, is growing, so anyone can learn anything – even in their home. You can take classes and listen to lectures from Harvard and other places online. Access to content and access to each other (is the future). (YouTube Interview [5:11], 2017)

"We don't really know what anyone else thinks. We have doubts about ourselves. Some people seem way more confident than they deserve to be. To be critical about yourself is fine, but to be hopeful about what you can do when you put the effort in is something I see as something that guides me. (YouTube Interview [8:36], 2017)
With regard to being in a male-dominated profession:

"Personally, as a woman, I feel no disadvantage". (YouTube Interview [8:59], 2017)

In response to "Who were your mentors? Men? Women? Both?":

"I have a mix, but since it happens that the field I'm in has a lot of men, it just happens that a lot of my mentors are men. I feel like they're (i.e., my mentors) not doing anything special just because I'm female. It's empowering to not feel different in the sense that [13:46] any criticism I get isn't because I'm a girl. It's because I can be better. (YouTube Interview [13:46], 2017)

"I think it's better to be a bit on the naïve side. It's good to believe that, say, if someone is judging you, that you can be better because it's easy enough to be better than it is to defuse any excuses because, maybe there are times when it is like that, but you just gotta learn" (YouTube Interview [14:12], 2017).
In response to the question, "What message would you give yourself during times when you're having a hard time or need that extra push and need to motivate yourself or when the challenges just seem to be too much?[16:17]":
In response to "How can I encourage my sister(s) to become empowered in outside career and activities?":

"One way is to make sure what opportunities you've have or gone through, your sibling also goes through. It's not like, 'Oh, we had one kid that did that, so we can just check that off'. I think that's somehow important" (YouTube Interview [20:18], 2017).

In response to "What are your goals?":

"There's a time and a place to be telling people your plans. There's got to be some understanding of who's going to know what – of what your plan is, because you don't want everyone to know the whole plan (YouTube [5:27]).

"Do you like warm weather or cold weather?": "I like variation. It makes me work harder when it's cold, and then I know that one day, it'll be warm. I'm a warm person at heart, but I want the cold to remind me of how much I like the warm.
(Visited 1,648 times, 1 visits today)
Lessons Learned from Sabrina Pasterski
Obviously, Sabrina has an incredible mind and excellent training and, as such, she's poised to make great waves in the world of science.
But as a person, she serves as an inspiration to me. I think she is a great inspiration to girls and women worldwide, as well.
Why?
She's Humble

She's traveled the world, been profiled in countless articles and papers, met some of the biggest shakers and movers in the world today, and yet…..she is always humble. Her humility shines through in every interview she gives. Regardless of her fame, her accolades, and her vast amount of accomplishments, Sabrina Pasterski is still a normal, down-to-earth, compassionate, giving person. She isn't arrogant, condescending, or boastful in any way. She's a person I'd like to hang out with and talk to. What about you?

She Believes in Herself

Henry Ford said, "Whether you think you can, or you think you can't — you're right". If you believe you can do something, you'll find a way to do it. Sabrina is a perfect example of using the springboard of believing in yourself to reach new heights.

She Realizes She's Just as Good (but not better than) Anyone Else

Sabrina has said many times, "If I see that someone else has done something, and I want to do it, I think, "If they can do it, I can do it, too".

How many people walk around through life harboring the opposite belief? You know, the one that whispers, "Well, I'm not as ___ as them, so I can't!". It's just not true, and Sabrina is a shining example. If you believe you can, you can. Yes, she's had opportunities and mentors and education, but without that underlying "can do" belief, I'm fairly sure she wouldn't have accomplished nearly as much as she has.

She Looks to the Future

With all her accolades and accomplishments, Sabrina could just sit back, rest easy, and slide by on her laurels. But, she doesn't.

She doesn't stand around boasting and telling stories of all her escapades, the famous people she's mingled with, and all the awards she's earned. Instead, she looks to the future and spends her time working toward her goals. She has an attitude of, "What's done is done, but there's so much more to learn and do!". That's where her focus lies. What a great way to be, eh?

She Exemplifies the Importance of Supportive Mentors and Friends

Throughout her journey so far, Sabrina has had supportive mentors all along the way. Her parents supported her. A mentor helped her gain admission to MIT after she was initially denied. Various people helped her get her flying licenses and motorcycle license.

Not everyone is lucky enough to have supportive people supporting in their lives, of course. If you're one of them, reach out and try to find someone who IS willing to be supportive. Better yet, become your own best cheerleader and supporter. And even better yet, find a girl or woman who you think needs some help reaching their potential and be the mentor you wish you had for yourself.

The best way to receive something you want is to BE and GIVE the thing you want to receive. (That's my motto, anyway!)

She Understands the Power of Silence

How many people have you come across who went on a great trip or won an award, but every time you meet them, they bring it up and re-tell the story to anyone who will listen?

Lots of people talk too much. They talk about all the things they're going to do, or they blabber on about that one big thing they did, even if it happened years ago.

There is power in keeping silent. If you talk to anyone and everyone about the thing you're going to do, you dissipate your energy and set yourself up for failure. Why not harness that energy and use it as fuel? Complete your goals without letting people know, then wow them with your results!

Sabrina Pasterski does that. That commands my respect. How about you?

She Works Hard

People like to think that people like Sabrina Pasterski are just "gifted" and therefore, not like them. Obviously, Sabrina has gifts, but so does everyone on the planet. Simply having a high IQ doesn't make a person driven, successful, famous, or anything else. It's not the gifts we're given! It's the work we put in to developing them and using them.

Sabrina Pasterski has worked hard. She didn't just work hard for a year or two and give up. She works hard every day, day in and day out.

What gifts do you have? Do you work hard every day to nurture your gifts and help them grow into something amazing?

She Doesn't Waste Time

I don't know Sabrina Pasterski personally, so I can't say how she uses the 24 hours she's given each day. But I can guarantee you she doesn't sit around wasting half the day looking at the mindless chatter on Facebook and Pinterest.

The statements she's made on her website and in various interviews indicate that she doesn't have a smartphone. She mentioned that she still uses a flip phone (no mindless distractions, eh?). She doesn't have a Twitter account, a Facebook account, or an Instagram account.

Think about it – to accomplish so much in so little time, do you think she wastes her time on drivel? Or does she make every day count and focus on learning and doing things that get results?

Take an honest look at how you spend your time each day. Could you cut out some things that don't propel you forward? Can you add 20 minutes here or there to learn, grow, and contribute?
Sabrina Pasterski is an amazing woman, without a doubt.
But, don't let this be one of those articles that you read, and then CLICK! – you skip off to something else and then – WHAM! – you already forgot about Sabrina's story!
No.
Don't do that!
Instead, take 1 minute – RIGHT NOW – and jot down the answers to these 5 questions. Tuck it under your pillow, or save it on your phone and re-read your answers when you wake up tomorrow morning.
What is ONE thing I'm good at (or that I'd like to be good at)?
_________________________________________________________________
What one thing can I add to my daily schedule to improve or utilize that thing that I'm good at (or want to be)? How much time can I reasonably set aside for this?
___________________________________________________________________
Am I willing to reach out and meet new people who are positive, uplifting, and can help inspire me to become better? If so, where can I start looking for these people?
______________________________________________________________________
What's ONE way I can inspire someone else, teach someone something, or be a mentor to someone who's struggling?
_________________________________________________________________________
Do I believe that I am as capable, deserving, and able as anyone else? If not, create a mantra that you can repeat to yourself over and over to remind yourself that you are. Write it down, carry it with you, and make yourself repeat it many times each day.

Examples: "I got this!"; "I'm just as good and capable as he/she is!"; "I can do anything I set my mind to"; "I can and WILL do it!". Write something that reverberates with you, though:
___________________________________________________________________
Sabrina Pasterski is an asset to our world – and so are you!
Does Sabrina Pasterski inspire you? If not, who DOES inspire you to grow and become just a bit better tomorrow than you are today?
Get these 5 Questions in Google Docs
Click the button to get a copy of these 5 questions in Google Docs. You can print it, save as pdf or as a Word doc, or share with others.
Just be sure to click "File > Make a Copy" as soon as you open it (to make it yours).
GET THE 5 QUESTIONS IN a GOOGLE DOC
Tell us about the Badass Woman You Admire:
Click here to nominate a woman you know to the Badass Women We Love Gallery.
(Visited 1,648 times, 1 visits today)