Could you use an extra $500 a month?
I'm joking!
Who would answer "no" to that question, eh?
$500 could cover a car payment, help you pay off debt more quickly, let you help people more, and, well, oh so much more….
The good news is: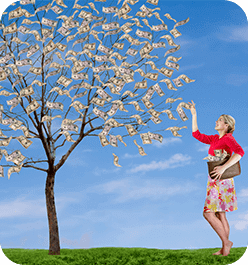 There are SO MANY opportunities available to us today!
Opportunities to create our own incomes, work on our own terms, and truly take total control of our career and financial lives. And most of these opportunities didn't even exist 10 years ago!
What a great time to be alive!
Aren't you excited?
Well, get excited!
Why?
Because this list of ideas can get you started on making at least an extra $500 a month (and if you work at it – much, more more!).
SPONSORED

Tips on How To Use This List
I divided the ideas into 2 categories – "Online" and "Offline". Some fit in both, though, so that's arbitrary.
"Quick" means quick to receive income – generally within 1- 45 days. "Longer" means just that – these take longer to see the income – anywhere from 1.5 months to several years, but it mostly just depends on you.
These are meant to spur your imagination and get your thinking gears in motion.
I list ideas and examples, and it's your job to take it further. Look around you, see what people want or need, and figure out how you can fill those needs or wants.
I briefly list the ideas and then several links where you can start your search for more info.
Always do your diligent research!
Never invest time and money without fully investigating the opportunities before you.
Research demand, competitors, trends, your markets, and more. Read books, get feedback, find out what laws may pertain to your idea…Get the picture?
This list of side-hustle opportunities includes legitimate gigs and ideas. I purposely don't include time-wasters with little payout (or those that spam your inbox forevermore). I don't list "Amazon's Mechanical Turk" or "Take surveys online" because I don't think they are worth your valuable time.
If you like them, though, feel free to pursue whatever makes you happy.
Scan the list and see what looks promising to you.
Allot at least 30 minutes every day on your calendar to make this work for you (or as much time as you muster). Put in maximum effort and see where you're at and what you've learned after 30 days.
Then come back here and share your results (put that in your calendar, too 😊)!
NOTE: I believe you can learn whatever you need to learn, so if something interests you, don't just automatically dismiss it because "I don't know how to do that". If it interests you, take the time to learn the skill. Libraries are amazing – and free!
"The best time to plant a tree was 20 years ago. The second best time is now."
The most important parts of this list aren't the ideas.
The important parts are to remember that:
You have control. You can determine your income levels. Take control!
If there's something you don't know, you can learn it! Yes, it might take plenty of time and practice. You'll get frustrated and want to give up. Keep on going! If you want it, you'll make it happen. You have it in you.
Copycat businesses don't get to the top that often. Infuse your business idea with your unique personality, ideas, and passion. But just because someone else is doing your idea doesn't mean you can't do it better. Don't get disheartened.
So many people say, "I'm going to start a ______", and then years later, you run into them and they haven't done it yet! But they're still talking about it.
Don't be that person.
Take one small step toward your dream today. Then another small step tomorrow. Be persistent and consistent.
Before you know it, you'll be miles ahead of everyone else, living the dream.
YOU GOT THIS!
Now go get 'em, Tiger.
(Visited 1,456 times, 1 visits today)